Brouwerij Dilewyns Vicaris 25 oz.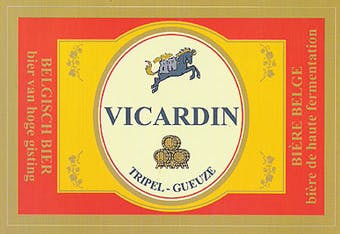 Unavailable
We're sorry, but this product is not currently available.
The origin of the celebrated Vicaris Tripel & Girardin Gueuze is delightfully serendipitous. At the Zythos Craft Beer Festival in Sint Niklaas, the Dilewyn's booth happened to be right next to that of the Girardin Brewery, which makes some of the finest Lambics in Belgium. While tasting each other's wares, they accidentally ended up with a melange of Vicaris Tripel and Girardin Gueuze in a glass. This combination proved to be so delicious that Vincent Dilewyns decided he had to make it an official beer. You have not tasted anything like this before!