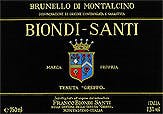 SKU: 56873
Biondi-Santi Brunello di Montalcino Annata 2012
---
$225.00
Save $50.00 (22%)
$175.00
---
The "Annata" is produced from Greppo's Sangiovese vineyards between 10 and 25 years old. The "Annata" is aged 36 months in Slavonian oak casks. The basic characteristic of the Brunello of Greppo Biondi Santi is its longevity. The "Annata" type will age between 20 and 40 years. To allow the flavour to fully unfold, the bottle should be opened and a bit of wine poured out at least 8 hours before drinking.
Underbrush, ripe berry, new leather and Mediterranean herb aromas slowly take shape in the glass. Showing youthful tension, the vibrant palate delivers red cherry, pomegranate, white pepper and pipe tobacco notes framed by bright acidity and taut, refined tannins. It already shows great balance and finesse but is still young and tight.
It's always such a pleasure and an honor to be in front of a bottle of Biondi-Santi. These wines deliver a sense of history and tradition that puts them into a very elite group of Italian icons. The 2012 Brunello di Montalcino Annata shows a medium garnet color with pretty ruby highlights. The bouquet emits dark fruit, cassis, balsam herb, tar and cola. This vintage shows the classic aromas that are associated with the venerated Il Greppo estate, but there is a little less focus and sharpness here compared to a great vintage like 2010. Instead, this wine is more veiled and opaque in terms of its aromatic presentation. The mouthfeel is lean (too lean in my opinion) and you don't get the same chiseled acidic determination in this 2012 vintage. You'll need to wait a few years more before it begins to show its potential. Following rigorous tradition, this wine is aged in large Slavonian oak casks for three years. Some 50,000 bottles are produced.