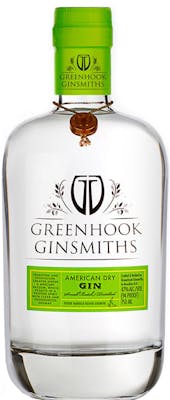 SKU: 58605
Greenhook Ginsmiths American Dry Gin
---
$39.99
Save $10.00 (25%)
$29.99
---
"At the forefront of the urban distilling revival in NYC,
Greenhook Ginsmiths is really making moves with their American Dry Gin. Vacuum distilled in a copper pot still, this delicious gin is infused with some of the freshest and most balanced botanicals of any gin in the U.S. Great dry gin for sipping or as a base for your favorite gin cocktail!"
Esquire Magazine
_________
"Gin is a relative underdog in the spirits world. We're rooting for the latest artisanal release from the phenomenal Greenhook Ginsmiths distillery located in the Greenpoint neighborhood in Brooklyn. Fresh, bright, with a unique, lively combination of botanicals – most notably chamomile, elderflower, Ceylon cinnoman & blue ginger. It's one of the most interesting and enjoyable gins out there!" Wall St. Journal
________
Delicious AND an Outstanding VALUE!!!
"Greenhook Ginsmiths is a gin we can wholeheartedly recommend.
Made using a gentle distillation process which extracts only the purest of oils and essences from the fresh botanicals used to craft this! Soft, elegant and perfectly balanced - a pure and lovely artisan gin. This beautiful American Dry Gin is distilled from such unique and special botanicals that it results in an amazing kaleidoscope of balanced, dry and silky smooth flavors.
A delectable gin to sip over ice, enjoy as a classic martini or
as the anchor to your favorite summer cocktail!"
-SPIRITED Tasting Panel