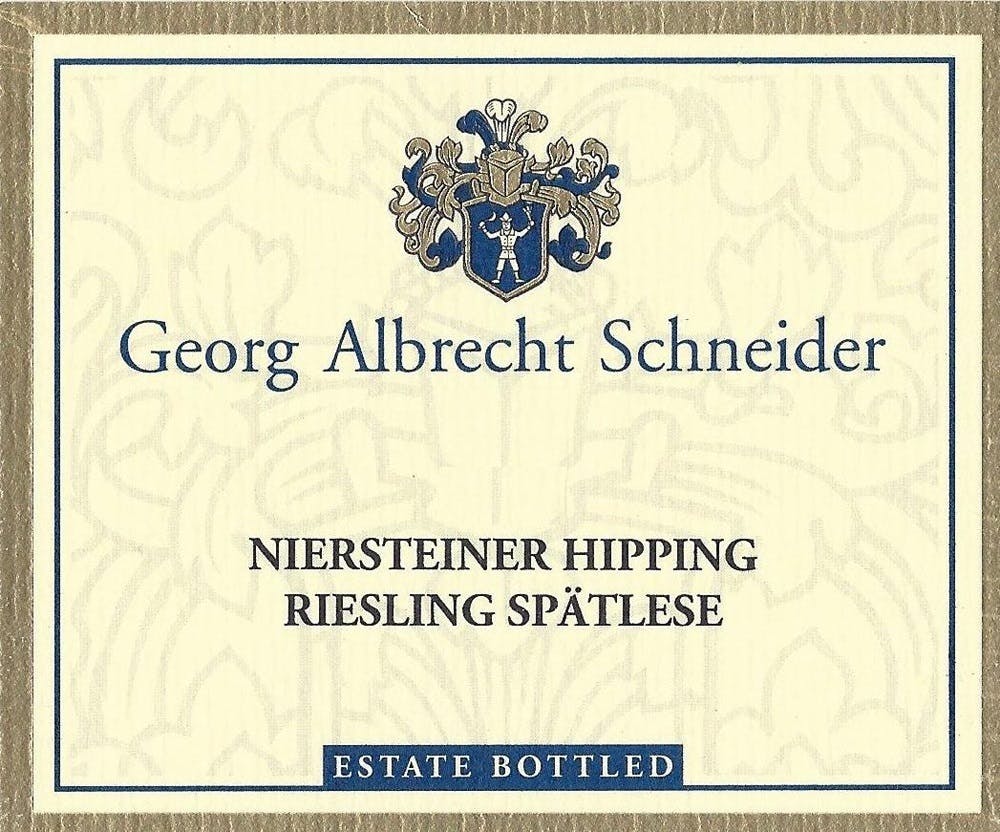 SKU: 62504
Georg Albrecht Schneider Niersteiner Hipping Riesling Spatlese 2016
---
---
Hints of pine frond, earth and smoke en- tice on the nose of this unusual, remark- ably well-priced Riesling. Semi-sweet in style, it's rich and creamy on the palate with luscious peach and grapefruit flavors. It's surprising nuanced too, exposing lay- ers of steel, crushed mineral and acid that meld beautifully through a long finish. A perfect match for strong Indian and Asian spiced dish es. Also fantastic with a spiced duck leg, dishes with acidic sauces, roasted vegetables and soft cheeses.
While quiet on the nose, the palate of this juicy, easy drinking spätlese offers loads of ripe tangerine, pineapple and yellow-apple flavors. It's not a complex wine but revitalizing and crisp, with a pleasant hint of astringency lending structure to the finish. Drink now through 2020.
This features a veil of saffron wrapped around succulent notes of apricot jam and quince paste. Shows moderate length. Drink now through 2026. 830 cases made, 448 cases imported.
There is a pleasantly limeade-like sweet-tartness to this buoyant, generously juicy if slightly loose offering, one I can't say I would have recognized blind as issuing from Nierstein's Roter Hang, much less from Hipping. Perhaps once some of the gloss, glycerol and fructose moderate their influence, nuances will be revealed, but superficial sweetness this obvious is apt to last a long time. Ripe pear and pineapple augment the lime both aromatically and on the palate. The finish is only modestly persistent and a bit sticky. Perhaps tellingly, I note that the ex-cellars price of this wine - its collection's sole Spätlese and grown in this estate's prestigious flagship vineyard - is the same as that of their generic dry Riesling "Vom Rotliegenden" (also reviewed in this report). It seems as though the younger generation's enthusiasm and talent lie elsewhere than in the sweet wines that made Albrecht Schneider's name in the late 20th century.