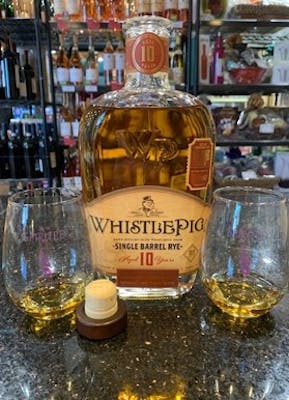 SKU: 64827
WhistlePig Lil Piggy SPIRITED Rye PRIVATE CASK 109, 10 year old
---
$95.00
Save $15.01 (15%)
$79.99
---
Lovely aromas of with notes of cinnamon, allspice, and clove that leads into a soft, finessed palate of caramel, vanilla & hints of freshly cut mint. It finishes with fascinating notes of orange peel, kiln-dried oak and classic spice. Beautifully pure, focused, and layered on the long, seductive finish!
A fantastic selection, if we do say so ourselves. We suggest buying at least a couple of bottles, since by the time you've finished enjoying the first, there likely will not be enough still available to enjoy again!
This is for those who like their rye big and brawny. It starts off innocuously with a maple-syrup color, and a pretty, complex and subtle scent: honey, vanilla, and faint clover notes. It feels silky on the tongue and at first, the flavors reflect caramel, burnt orange and a whisper of smoke, but then a mouth-warming wave of tannic bite sweeps over all and lingers for a good long time. Straight up or on the rocks.