SKU: 67395
Dr. Loosen Urziger Wurzgarten Fischerei Riesling Spatlese 2020
---
---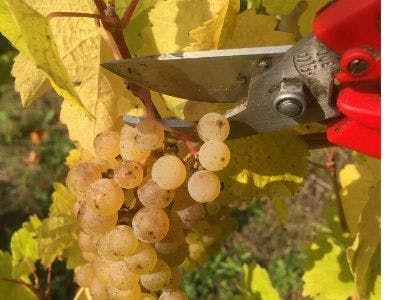 "Grapes Like From a Picture Book!"
BERNKASTEL/MOSEL, GERMANY – The 2020 growing season and harvest both got off to an early start here in the Mosel, but ended up giving us picture-perfect fruit for excellent dry wines, as well as brilliant off-dry and medium-sweet wines at the lower end of the Prädikat spectrum. When describing the 2020 vintage overall, our cellar master, Bernhard Schug, summed it up best by simply calling it "a Kabinett/Spätlese year." - Loosen Winery
A vibrant and exotically fruity Riesling from a special parcel of the Mosel valley's famous "spice garden" vineyard. Ürziger Würzgarten (erts-iger verts-garten) is an extremely steep vineyard in a picturesque amphitheater formed by a dramatic bend in the Mosel river. The core of the unique soil here is a red, volcanic sandstone, which produces wines with exotic fruit and underlying spicy notes. In certain parcels, such as the Fischerei, red slate becomes more prominent. There is something special about red slate that imparts a dense, muscular minerality to the wine. The marriage of these soils yields wines of great depth and complexity.
"So much succulence, but also so much drive makes this a very exciting Spätlese. One of the best Rieslings from the Mosel this year. Very bright and clean finish that extends a long way out!"
Are you 21 years old, or older?