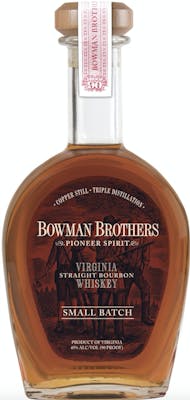 SKU: 61773
A. Smith Bowman Distillery Bowman Brothers Small Batch Straight Bourbon Whiskey
---
---
John J., Abraham, Joseph, and Isaac Bowman were Virginia militia officers in the American Revolutionary War. This hand-crafted bourbon whiskey is a tribute to their heroism. Bowman Brothers Small Batch Bourbon is distilled three times using the finest corn, rye, and malted barley, producing distinct hints of vanilla, spice, and oak.
When Bowman Distillery says 'small batch', they mean it! Bowman Brothers Small Batch is produced in batches of just 8 total barrels, aged between 6-7 years. The result: consistent, high-quality bourbon in every bottle.
The Bowman Brothers 'Small Batch' Bourbon is excellent for sipping on the rocks or for producing an upscaled Old-Fashioned or an amazing Manhattan.
Are you 21 years old, or older?