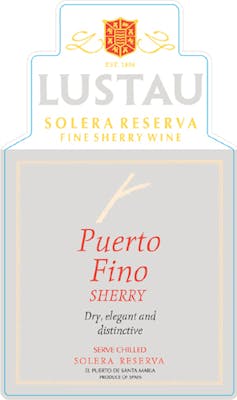 SKU: 33266
Lustau Solera Reserva Puerto Fino Sherry
---
---
A truly great wine matured in the town of Puerto de Santa María, considered by many experts to be the home of the finest classic fino. The flagship of the House of Lustau; a dry elegant Sherry, light and smooth with just a hint of the sea and attractive fruit. Very fresh, with a slight taste of tangy yeast. The pronounced flor bouquet is due to Puerto Fino's double maturation under fresh flor. Drink it as an apéritif or as a wine with food. Delicious with shellfish and other seafood. Serve chilled.
International Wine Cellar
96 points Darker green-gold. Clean, complex nose with light citrus, honeysuckle , fruit, spices, elements of fine white wine. Very smooth, fat and rich, but with a nice acid bite. Extraordinary sherry. Meursault to Jarana's Chablis. Gerry Dawes in IWC Nov/Dec '94 Issue 57 - Tanzer
A textbook fino. Light, crisp and tangy, offering apple, almond and iodine aromas and flavors. Balanced and refreshing, leaving a mouthwatering impression.
A brilliant sherry from Lustau, the dry, austere, intensely flavorful non-vintage Puerto Fino exhibits a light green/amber color as well as notes of crushed sea shells, hazelnuts, and spice.
More yellow than most finos, with a strong, oily nose of popcorn and citric essence. The palate shows roasted corn, baked apple and salted almonds, while the finish is steady yet salty. This one really grabs your tongue and taste buds; it's forceful, and in some ways it could probably benefit from better definition.
Are you 21 years old, or older?