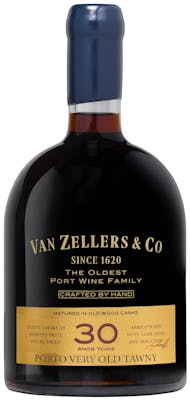 SKU: 64500
Van Zellers Tawny Port 30 year old
---
---
30 Years Very Old Tawny Port is a blend of old Ports with an average age of 30 years, aged in very old wooden casks. Van Zellers & Co. 30 Years Very Old Tawny Port is bottled on demand, making it possible for all to enjoy this beautiful Port over many years, sharing with us their natural evolution throughout time. Exotic layers of honeyed fruit, spices, dried apricots and nuts, lush, silky and seductive. Serve slightly chilled.
The NV 30 Years Very Old Tawny Port is a field blend from vines averaging 35 years in age. It was bottled in November 2019 with a long cork and 98 grams of residual sugar. If the 20 Year this issue is a sunny and mouthwatering Tawny, this adds more complexity while retaining the acidity. This shows relative austerity for its category, much like the 10 Year did, but the acidity makes it livelier and better balanced. Laced with molasses and caramel, this is dense, tight and gripping. It finishes surprisingly dry in perception, and with plenty of pure power. This is impressive overall. In style, it initially leaned a little more to a Cognac (that is just a relative descriptor, so don't misunderstand). Plus, the acidity always brings it to a good place. This will work on its own, but it also will be a great food pairing for appropriate foods like various cheeses. I liked it a lot, even though I liked the 40 Year more.
The superlative wood and dried fruit flavors have coalesced to yield an intense wine. Its sweet sultana flavors and generous richness go with the spice and pepper edge from the wood aging. It is a great wine that is ready to drink.
Are you 21 years old, or older?