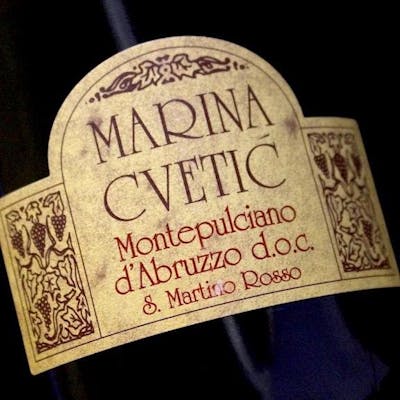 SKU: 67314
Marina Cvetic Montepulciano d'Abruzzo Riserva 2019
---
---
World-class, woman winemaker, Marina Cvetic, started making wine and showcasing her determination and enthusiasm, at a time when it was unusual to label a great Italian wine with a woman's name. Fruit of a careful selection of Montepulciano grapes from the finest Masciarelli vineyards – this wine best represents Marina Cvetic's winemaking style and a genuine and deep taste of Montepulciano d 'Abruzzo. This area is able to provide the wine with aromas and elegant notes unique in the Abruzzo region, due to a significant temperature range and a constant movement of streams that mix sea breezes to the cold wind of the mountain all year round.
"Marina Cvetic Riserva is another beautiful release from this estate. Coming from 100% Montepulciano grapes and aged in new barrels, it reveals a dense purple/plum color as well as unevolved notes of spiced blackberries, dark cherries, scorched earth, smoked herbs, chocolate, and spring flowers. It's rich, medium to full-bodied, and powerful on the palate, with plenty of structure and beautifully layered through the tremendous, long, well-structured finish! Ultimately, there is a careful sense of measure and balance achieved here, despite the opulence and sheer exuberance of the wine. We enjoyed every sip of this wine immensely – a stunning full-bodied Italian beauty!"
Are you 21 years old, or older?